Lighting trends 2021 – glorious designs to illuminate your rooms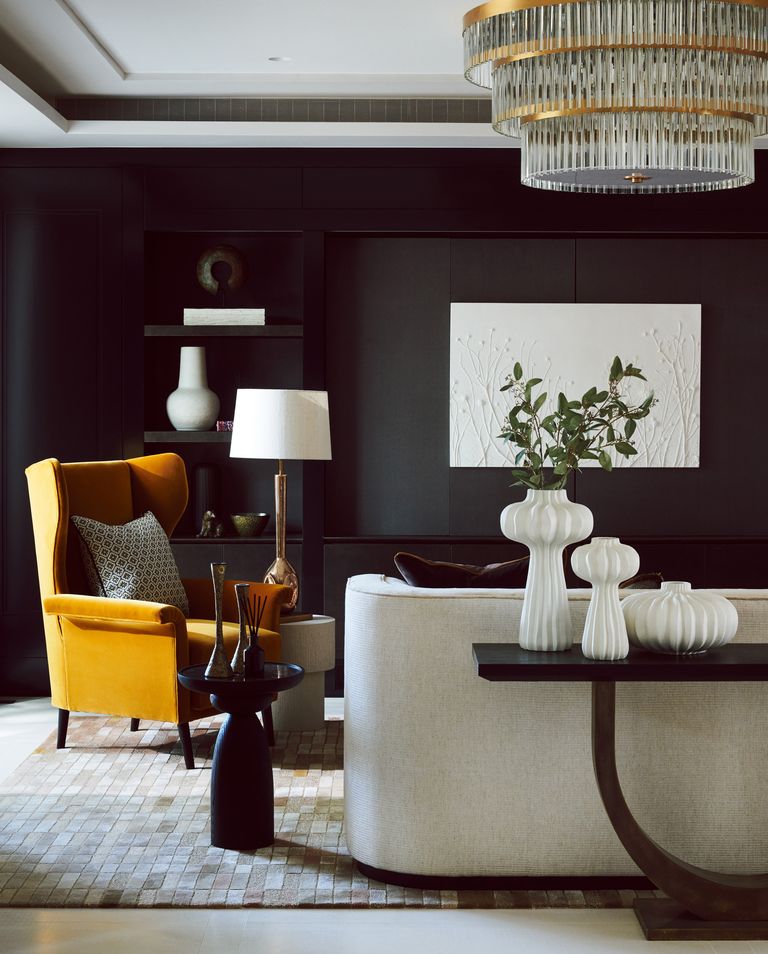 (Image credit: Elicyon/Andrew Martin Interior Designer Review Vol.24)
BY JENNIFER EBERT3 DAYS AGO
From dynamic configurations and hand-blown glass pendants to vibrant lampshades, brass finishes and a nod to nostalgic and retro designs, these are the lighting trends that design experts and lighting designers say will be big in 2021.
Lighting is an essential interior design tool – but especially in autumn and winter when the nights are longer and we spend more time indoors. However, the pandemic has made all of us more aware of how important it is for our homes to be beautiful – and so it's not just about how we light our homes, but what our lighting looks like. And the consensus is that the pieces – from humble bedside lampshades to living room chandeliers – should cry out for attention.
We think you will love these lighting trends – as more emerge, we will update them with new and exciting finds.
1. ARTFUL CEILING LIGHTS
'You don't light for the light, you light for shadows,' says Martin Waller, founder of Andrew Martin. 'As Autumn arrives, with its crunchy leaves and darker evenings, it's time to look for new ways of lighting the corners of our homes that have become accustomed to the lingering sunlight of the warmer months. RECOMMENDED VIDEOS FOR YOU…
'Artful ceiling lights and thoughtfully placed lamps can transform a room into a cosy sanctuary in which to hibernate through the winter. Ceiling lights create a focal point in a room with a statement ceiling light. Metallic details will reflect and bounce the light around a room to dazzling effect.'
2. SCULPTURAL TABLE AND FLOOR LAMPS
'Table lamps with sculptural shapes and bold designs turn your lamps into pieces of art, providing interest even when the lamp is turned off,' continues Martin Waller. 'Use pairs of lamps to accentuate a beautiful sideboard or console table, or frame a larger piece of furniture such as a sofa or bed.
'Floor lamps are dutiful and elegant and can be placed next to an armchair or sofa to create a comfortable reading spot. Or light up that dark, forgotten corner of your hallway with a statement design to breathe new life into your home.'
3. BOLD STATEMENT PIECES
'Choose bold designs featuring sculptural shapes, interesting texture or colored glass to make as style statement, even when the light is switched off,' concludes Martin Waller.
'Think of your lamp as an art piece or sculpture, like a design-led finishing touch. Our Linden table lamp in plaster white or black (above) fits this brief perfectly. A light is a good way to throw surprise in a room, to merge modern with traditional.'
Putting an industrial style lamp or graphic mid-century form in a traditional stucco setting injected excitement, equally an Art Deco chandelier in a stark, modern plan. The Royal Opera House bar is a great example of using lighting to bring a traditional interior up to date.'
4. COLOR AND PATTERN
'Colour and pattern can be such vital elements in both our lives and our homes. They can speak to us at aesthetic and emotional levels, elevating our homes, infiltrating through the walls, the furnishings, and of course, through accessories like lampshades,' says Matthew Williamson who has collaborated with Pooky to bring us vividly colored lighting.
'When it comes to lighting your home, choosing lamps should be like selecting accessories to complement an outfit. Setting the mood rests entirely on the lighting you choose. Forget about using one main lighting source in favor of illuminating a few lamps around the room for a more interesting, flattering lighting scheme. This way, you can be more flexible with what you intend to light. For example, a reading corner would benefit from an elegant swan-neck wall light, while a piece of art would look spectacular on the wall between two table lamps on a credenza or sideboard.
'Trends emerging now that will take 2021 by storm will encompass the eclecticism of this collection. Fun, playful and design-led shades and bases will be popping up in the world's most beautiful interiors. Especially now we're all spending much more time at home, people want to inject color and vitality into their spaces, while keeping classic silhouettes and timelessness in mind to ensure their purchases last a lifetime as their interiors change.
'With this in mind, traditional fabric designs also played a significant part in the inspiration for my collection with Pooky. Each of the prints speaks to classic, timeless patterns which are globally recognized. They are also all patterns that I have used historically in my work both in fashion and interior design. The sprawling playfulness of this floral Paisley is a contemporary take on traditional Persian and Indian motif characterized by curving, embellished almond-shapes. In Leopard Love, the unending, classic allure of animal print has been reimagined with painterly leopard spots coalescing into a love-heart motif. The perennial, feel-good fronds of palm trees tangle amongst the pleats of Palm, a highly contemporary fabric design that transports you to sunny climes. Finally, Ikat takes its lead from classic Ikat designs. This diamond block print will add a graphic jolt of color to any room in the house, merging color and pattern to an almost psychedelic effect.'
5. BOLD BRASS
Providing a modern take on metal, warmer tones of brushed and polished brass will start to come through more regularly. Elegant yet subtle, the high shine or matt finishes pair perfectly with natural materials including marble and wood for a refined feel, with manmade materials, such as concrete for a more contemporary effect.
6. INCREASED INTEREST IN BEDROOM LIGHTING
With the trend for spaces to relax and unwind in becoming more prominent and important in interiors post-pandemic, ambience is key with lighting playing a crucial role in helping to set the mood and surrounding atmosphere.
To this end, lighting for bedrooms is taking a more important role, with eye-catching central pendants a focal point in themselves, even unlit, and shapely bedside lamps creating the perfect, low-lit atmosphere.
7. HOME OFFICE LIGHTING – WITH PERSONALITY
With more of us than ever working from home, more thought is being given to how we light our home offices and work spaces – and one trend to emerge for lighting in 2021 is a new-found love of traditional workmanship and styles.
This Abercrombie table lamp by Jim Lawrence is a case in point. It has been designed with a heritage look and is as handsome when it is turned off as when it is switched on. The traditional spun brass shade and base are matched with a contemporary steel stem and exposed braided cable to create an eclectic effect. Perhaps you picked it up at a French flea market? No one need ever know.
8. HAND-BLOWN GLASS
'The trend for uniqueness is set to thrive in the year ahead as homeowners and designers seek to shock. From hand-blown glass with contrasting materials, to bold eye-catching accessories it's all about being distinctive,' says Ian Cameron, Creative Director of Cameron Design House.
Elevating simple forms into sculptural pieces, hand-blown glass makes up the core structure of the impressive Helmi and Kuulus chandeliers. Their bubble-like appearance, with a deep warming glow creates impact upon entry, for a truly awe-inspiring, show-shopping piece.
source: https://www.homesandgardens.com/news/lighting-trends-207692
BY JENNIFER EBERT 10/29/2020